.scot is a New Gltd, as released by ICANN - The introduction of .scot will help to diversify and enhance the internet - You can register .scot domains here.
.scot
.scot
Search and Register
All domains

=== Concise Searches ==
=== Full Searches ==
=== Protection Packs ==
.scot Domain Prices
Prices shown in Australian Dollars (AUD) British Pounds (GBP) Danish Krone (DKK) Euros (EUR) New Zealand Dollars (NZD) Swedish Krona (SEK) US Dollars (USD)
Period
Registration
Renewal
.scot
1 year

$29.10

kr138

€18.50

£13.60

$31.20

kr174

$20.00

R299.00

$58.10

kr276

€37.00

£27.20

$62.30

kr348

$40.00

R599.00

2 years

$101.70

kr483

€64.80

£47.50

$109.10

kr610

$70.00

R1048.00

$116.20

kr552

€74.00

£54.30

$124.70

kr697

$80.00

R1198.00

3 years

$159.80

kr759

€101.80

£74.70

$171.40

kr958

$110.00

R1647.00

$174.30

kr828

€111.00

£81.50

$187.00

kr1045

$120.00

R1797.00

4 years

$217.90

kr1035

€138.80

£101.90

$233.80

kr1307

$150.00

R2246.00

$232.50

kr1104

€148.00

£108.70

$249.40

kr1394

$160.00

R2396.00

5 years

$276.10

kr1311

€175.80

£129.10

$296.10

kr1655

$190.00

R2845.00

$290.60

kr1380

€185.00

£135.90

$311.70

kr1742

$200.00

R2995.00

6 years

$334.20

kr1587

€212.80

£156.20

$358.40

kr2004

$230.00

R3444.00

$348.70

kr1656

€222.00

£163.00

$374.00

kr2091

$240.00

R3594.00

7 years

$392.30

kr1863

€249.80

£183.40

$420.80

kr2352

$270.00

R4043.00

$406.80

kr1932

€259.00

£190.20

$436.40

kr2439

$280.00

R4192.00

8 years

$450.40

kr2139

€286.80

£210.60

$483.10

kr2700

$310.00

R4642.00

$464.90

kr2208

€296.00

£217.40

$498.70

kr2788

$320.00

R4791.00

9 years

$508.50

kr2415

€323.80

£237.70

$545.50

kr3049

$350.00

R5241.00

$523.00

kr2484

€333.00

£244.50

$561.00

kr3136

$360.00

R5390.00

10 years

$566.60

kr2691

€360.80

£264.90

$607.80

kr3397

$390.00

R5839.00

$581.20

kr2760

€370.00

£271.70

$623.40

kr3484

$400.00

R5989.00

Restrictions
No Restrictions Noted
Domain
Registration
Renewal
.gov.scot
Price on request
Price on request
No Restrictions Noted
.scot Domain Notes
Note: The registry may classify some domain names as premium domain names if so classfied they will command a higher price.
scot domains include 3rd party fees and maintenance & during the registration period. If you wish to transfer your scot domain away during your registration period you are free do do so without charge. We do not charge an administration fee.
.scot Details
.SCOT
is one of the many new Gtlds issued by ICANN at the beginning of 2014
Registry: The registry is Dot Scot Registry Limited
Purpose: To identify Scotland
Whois Information: for .scot
The domain
SCOT
went live into General Availability on the 23rd September 2014
Once your .scot domain is registered
Once registered the .scot domain is placed on our international server, provinding an under-construction page for your .scot domain, for as long as required. (This enables a browser of your scot domain to readily identify that it is registered).
We can also supply free of charge.
E-mail redirection.
Web redirection.
Whois Privacy.
and more....
Free transfer away if required. We do not and will not charge release / transfer or administration fees for transferring domains to a different scot domain name registrars. The domain name is yours and not ours, unlike many other companies, "We recognise that fact!"
.scot Registration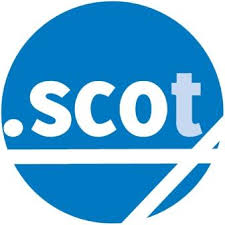 Prices from as little as:
$29.10

kr138

€18.50

£13.60

$31.20

kr174

$20.00

R299.00

for 1 year.
.scot Data Sheet (Domains 101)
| | |
| --- | --- |
| Type : | .scot |
| Country : | .scot |
| Terms & Conditions : | None Yet, application Under Review |
| IDN Enableda : | No |
| Delete Protectionb : | No |
| Super Lockc : | No |
| Domain Recoveryd : | Yes |
| Minimum Renew : | 1 year(s) |
| Maximum Renew : | 10 year(s) |
| Default Registration Period : | 1 year(s) |
| Maxium Registration Period : | 10 year(s) |
| Must be Positively Renewed : | 1 |
| Grace Periode : | 4 day(s) |
| Autorenew Grace Periodf : | - day(s) |
| Domain Must be Renewed Before Expiry : | Yes |
| Transfers are Prohibited forg : | 60 day(s) |
| Redemption Periodh : | 30 days |
| Fee for Recovery From Redemptioni : | $ |
| Usage : | To identify Scotland |
| Actual Usage : | h2Launch Phase/h2 brbr The Launch Phase for .scot will start on July 15th 2014 and will end on September 13th for Sunrise, September 19th for the Public Interest LRP, and September 16th for all other LRPs. During this 66 calendar day period, followed by a 7 day cooling off period before the start of the GA period, five types or "categories" of applications will be accepted: one 60 day period end-date Sunrise for TMCH validated trademarks, one 66 day period Category for entities with a specific role in the promotion of the worldwide Scottish interest, and two 63 day period Categories for registrants with prior rights, and an additional 63 day period Category for applications without prior rights (Landrush). Applications for all these 5 categories will be accepted and allocated at the end of their respective launch period Phase window according to the hierarchy of priority status of each category. brbr Each category will be completely allocated (i.e. accepted, rejected or sent to contention resolution) before any name on the next category is allocated. Each claim of priority will be individually and thoroughly validated by the Registry Operator. Self-declaration will not be sufficient. brbr The categories are the following, according to priority status (from top-priority to lesser priority): br - bPriority 1/b Category: Sunrise: 60 day period end-date Sunrise for TMCH-validated trademarks. Duration: 60 days brbr - bPriority 2 Category/b: 66 day period: Public Interest Limited Registration Period (LRP) for Entities with a specific role in the promotion of the worldwide Scottish community public interest, including Public Authorities: This Launch Program is intended to allow legal entities which have a specific vocation in promoting the public interest of the worldwide Scottish community,, including Public Administrations with competences in Scotland, to register: (i) their own names (including clear variations and/or abbreviations thereof), (ii) their online services, (iii) the same domain names registered by them in other TLDs and effectively used, and (iv) their registered trademarks. brbr - bPriority 3 Category/b: 63 day period: LRP for Local trademarks: non TMCH-validated trademarks with effect in Scotland (i.e. UK trademarks, EU Community trademarks, and WIPO International trademarks with effect in UK) and geographical indications recognised by International or UK legislation. brbr - bPriority 4 Category/b: 63 day period: LRP for Entites with legal seat in Scotland: Limited registration period intended to allow legal entities with their legal seat in Scotland to register (i) their official names (including clear variations and/or abbreviations thereof); and (ii) the same domain names registered by them in other TLDs and effectively used. - Landrush: 63 day period: Limited Registration Period for registrants without priority rights. brbr Claims Services will be provided from day 1 of the Launch Phase (day 1 of the 5 simultaneous Launch Categories) until at least 90 days from the start of General Registration, that is, from July 15th 2014 to December 22nd 2014. |
Notes
a. IDN (Internationalized Domain Names) domains are domains containing non ASCII characters. These are used in languages such as Chinese, Russian, Spanish, Korean, French and German.
b. Delete Protection, an extra service provided by us. Once enabled the domain name will only be deleted once it has passed expiry by 1 year - without being renewed - it will then be deleted.
c. Super Lock, Once selected an additional level of security to inter-registrar transfers is enabled; telephone calls and other physical proof of identification will be required to verify the transfer.
d. Our DomainRecovery service can be used if your domain name is accidentally deleted or cancelled by your existing registrar. We can automatically attempt to re-register it. See Domain Recover
e. Grace Period is the number of days following the registration of a domain when the operation may be reversed.
f. Autorenew Grace Period is the number of days following the automatic renewal of a domain when the operation may be reversed. When this number is negative the domain name must be renewed before expiry.
g. During the Transfer Prohibit Period, this is x days after either the initial registration or a transfer to us, domain transfers away from us will not be allowed.
h. Redemption period. Once a domain is deleted at the registry it can remain recoverable for a limited time before it is deleted. This is the redemption period.
i. Redemption Fee. If we are asked to remove a domain from its redemption period, see above. This is the fee we will charge.
.scot Assignment
How Internet Assigned Numbers Authority (IANA) assign the .scot domain. IANA is a department of ICANN, a non-profit private American corporation, they oversees IP address allocation, root zone management in the Do main Name System (DNS), and other Internet related symbols and numbers.
.scot Assignment
.scot Information
General information on .scot, the country it represents and its uses.
.scot Information
.scot Renewals
You may renew your .scot domain without logging into your control panel by using our quick and painfree renewal service, or even transfer it into nominate to be renewed if necessary.
.scot Renewals
Important:
Premium Domain Names
The registry may list some names as a premium domain name, if so this domain will be charged at a higher price than the one listed. We will contact you before completing your order if you order one of these names.
Reserved Names
The registry reserves some names for its own use, and may not mark them as registered. We may only discover this at the time of attempted registration.